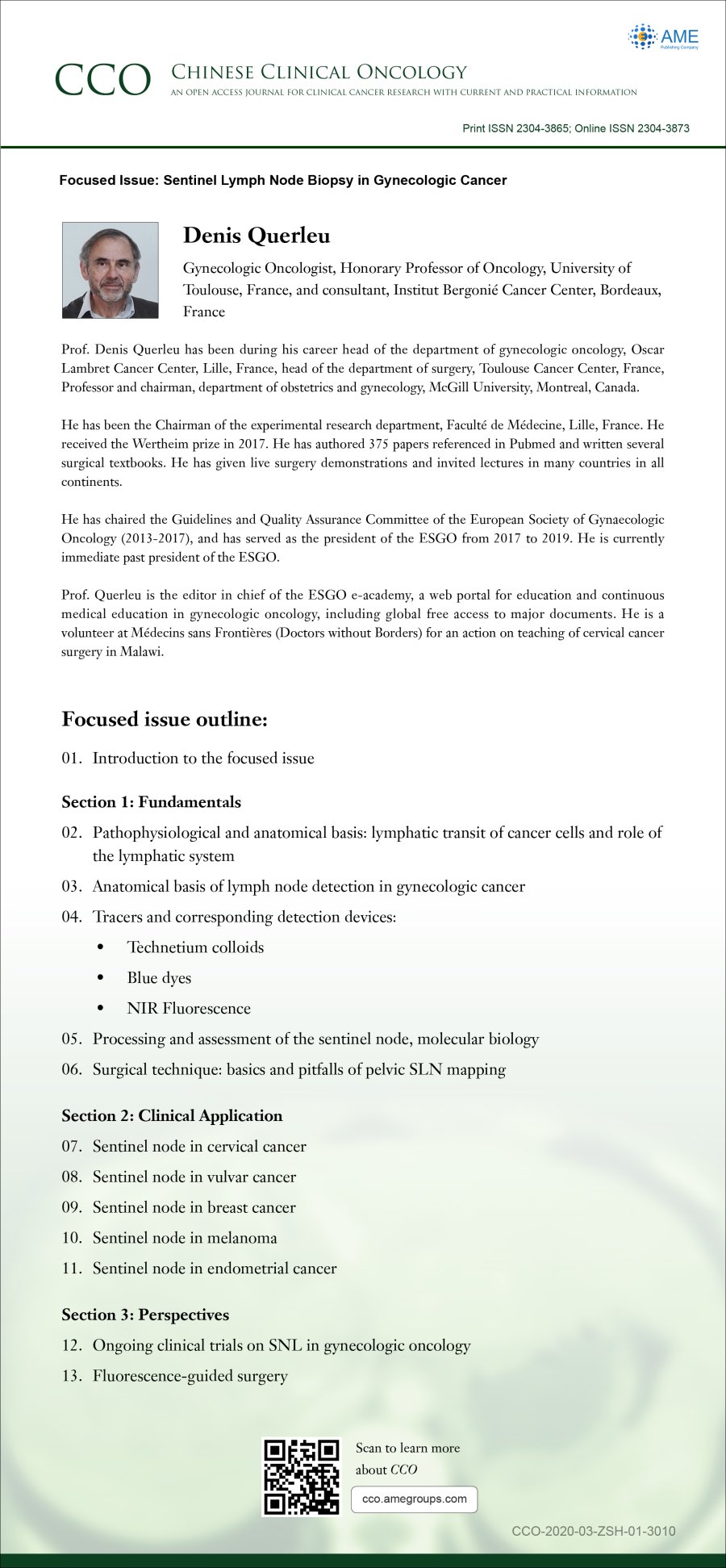 This focused issue on "Sentinel Lymph Node Biopsy in Gynecologic Cancer" is edited by Denis Querleu.
Denis Querleu
Gynecologic Oncologist, Honorary Professor of Oncology, University of Toulouse, France, and consultant, Institut Bergonié Cancer Center, Bordeaux, France
Prof. Denis Querleu has been during his career head of the department of gynecologic oncology, Oscar Lambret Cancer Center, Lille, France, head of the department of surgery, Toulouse Cancer Center, France, Professor and chairman, department of obstetrics and gynecology, McGill University, Montreal, Canada.
He has been the Chairman of the experimental research department, Faculté de Médecine, Lille, France. He received the Wertheim prize in 2017. He has authored 375 papers referenced in Pubmed and written several surgical textbooks. He has given live surgery demonstrations and invited lectures in many countries in all continents.
He has chaired the Guidelines and Quality Assurance Committee of the European Society of Gynaecologic Oncology (2013-2017), and has served as the president of the ESGO from 2017 to 2019. He is currently immediate past president of the ESGO.
Prof. Querleu is the editor in chief of the ESGO e-academy, a web portal for education and continuous medical education in gynecologic oncology, including global free access to major documents. He is a volunteer at Médecins sans Frontières (Doctors without Borders) for an action on teaching of cervical cancer surgery in Malawi.
Focused issue outline:
Introduction to the focused issue



Section 1: Fundamentals

Pathophysiological and anatomical basis: lymphatic transit of cancer cells and role of the lymphatic system
Anatomical basis of lymph node detection in gynecologic cancer
Tracers and corresponding detection devices:
• Technetium colloids
• Blue dyes
• NIR Fluorescence
Processing and assessment of the sentinel node, molecular biology
Surgical technique: basics and pitfalls of pelvic SLN mapping



Section 2: Clinical Application

Sentinel node in cervical cancer
Sentinel node in vulvar cancer
Sentinel node in breast cancer
Sentinel node in melanoma
Sentinel node in endometrial cancer



Section 3: Perspectives

Ongoing clinical trials on SNL in gynecologic oncology
Fluorescence-guided surgery
Disclosure:
The series "Sentinel Lymph Node Biopsy in Gynecologic Cancer" was commissioned by the Editorial office, Chinese Clinical Oncology without any sponsorship or funding. Denis Querleu served as the unpaid Guest Editor for the series.