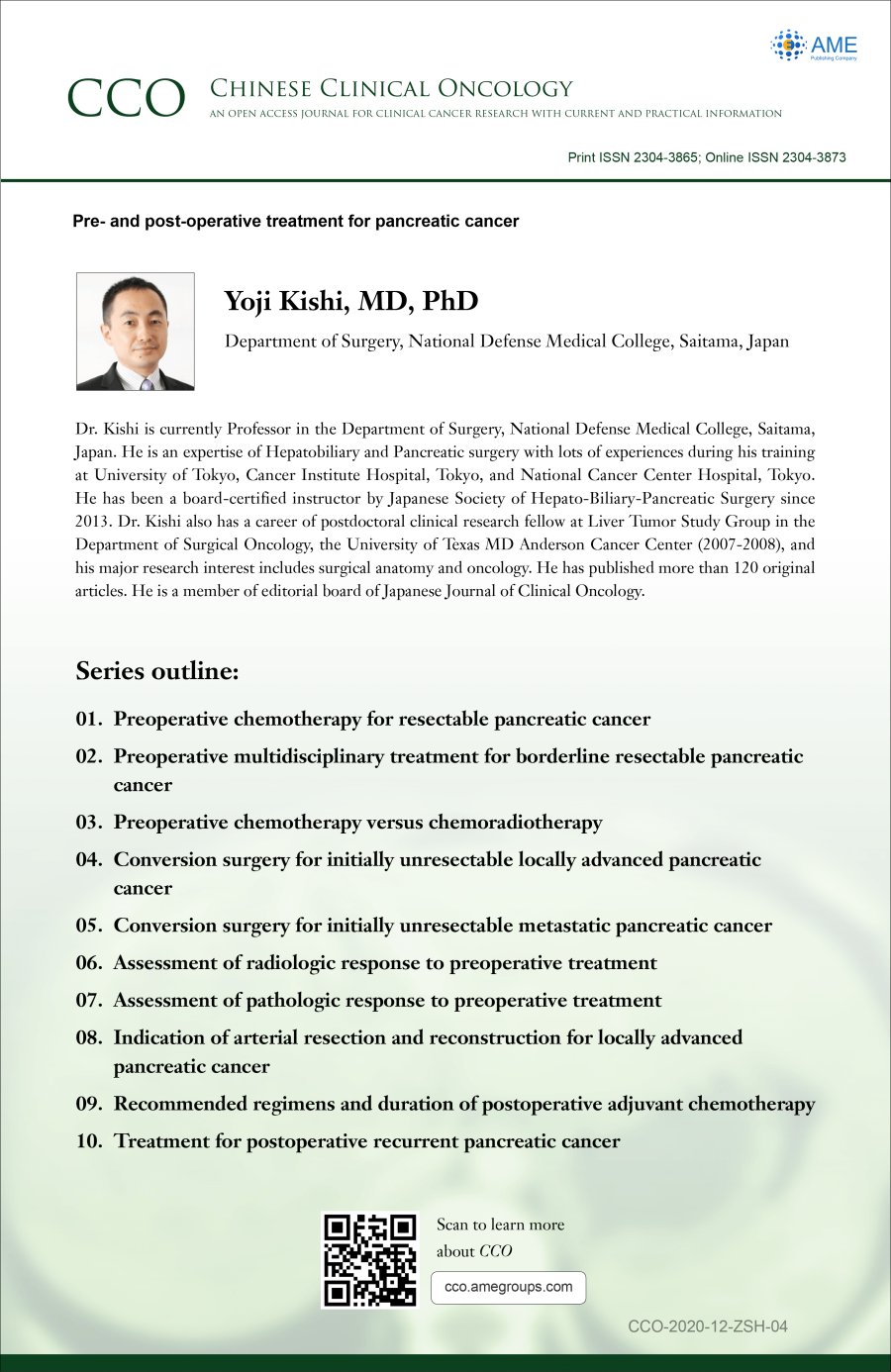 Yoji Kishi, MD, PhD
Department of Surgery, National Defense Medical College, Saitama, Japan
Dr. Kishi is currently Professor in the Department of Surgery, National Defense Medical College, Saitama, Japan. He is an expertise of Hepatobiliary and Pancreatic surgery with lots of experiences during his training at University of Tokyo, Cancer Institute Hospital, Tokyo, and National Cancer Center Hospital, Tokyo. He has been a board-certified instructor by Japanese Society of Hepato-Biliary-Pancreatic Surgery since 2013. Dr. Kishi also has a career of postdoctoral clinical research fellow at Liver Tumor Study Group in the Department of Surgical Oncology, the University of Texas MD Anderson Cancer Center (2007-2008), and his major research interest includes surgical anatomy and oncology. He has published more than 120 original articles. He is a member of editorial board of Japanese Journal of Clinical Oncology.
Series outline:
Preoperative chemotherapy for resectable pancreatic cancer
Preoperative multidisciplinary treatment for borderline resectable pancreatic cancer
Preoperative chemotherapy versus chemoradiotherapy
Conversion surgery for initially unresectable locally advanced pancreatic cancer
Conversion surgery for initially unresectable metastatic pancreatic cancer
Assessment of radiologic response to preoperative treatment
Assessment of pathologic response to preoperative treatment
Indication of arterial resection and reconstruction for locally advanced pancreatic cancer
Recommended regimens and duration of postoperative adjuvant chemotherapy
Treatment for postoperative recurrent pancreatic cancer
Disclosure:
The series "Pre- and post-operative treatment for pancreatic cancer" was commissioned by the Editorial office, Chinese Clinical Oncology without any sponsorship or funding. Dr. Yoji Kishi served as the unpaid Guest Editor for the series.