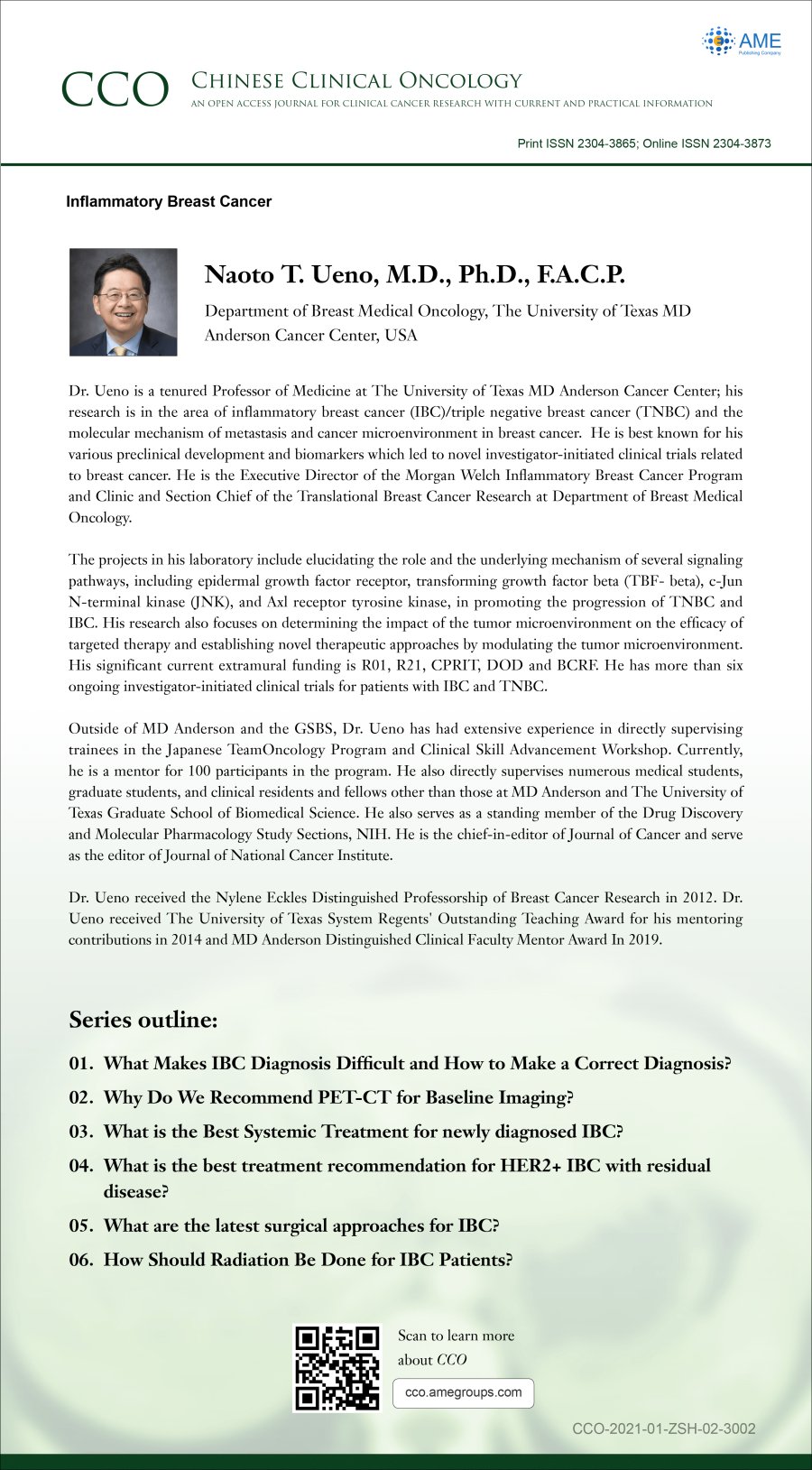 Naoto T. Ueno, M.D., Ph.D., F.A.C.P.
Department of Breast Medical Oncology, The University of Texas MD Anderson Cancer Center
Dr. Ueno is a tenured Professor of Medicine at The University of Texas MD Anderson Cancer Center; his research is in the area of inflammatory breast cancer (IBC)/triple negative breast cancer (TNBC) and the molecular mechanism of metastasis and cancer microenvironment in breast cancer. He is best known for his various preclinical development and biomarkers which led to novel investigator-initiated clinical trials related to breast cancer. He is the Executive Director of the Morgan Welch Inflammatory Breast Cancer Program and Clinic and Section Chief of the Translational Breast Cancer Research at Department of Breast Medical Oncology.
The projects in his laboratory include elucidating the role and the underlying mechanism of several signaling pathways, including epidermal growth factor receptor, transforming growth factor beta (TBF- beta), c-Jun N-terminal kinase (JNK), and Axl receptor tyrosine kinase, in promoting the progression of TNBC and IBC. His research also focuses on determining the impact of the tumor microenvironment on the efficacy of targeted therapy and establishing novel therapeutic approaches by modulating the tumor microenvironment. His significant current extramural funding is R01, R21, CPRIT, DOD and BCRF. He has more than six ongoing investigator-initiated clinical trials for patients with IBC and TNBC.
Outside of MD Anderson and the GSBS, Dr. Ueno has had extensive experience in directly supervising trainees in the Japanese TeamOncology Program and Clinical Skill Advancement Workshop. Currently, he is a mentor for 100 participants in the program. He also directly supervises numerous medical students, graduate students, and clinical residents and fellows other than those at MD Anderson and The University of Texas Graduate School of Biomedical Science. He also serves as a standing member of the Drug Discovery and Molecular Pharmacology Study Sections, NIH. He is the chief-in-editor of Journal of Cancer and serve as the editor of Journal of National Cancer Institute.
Dr. Ueno received the Nylene Eckles Distinguished Professorship of Breast Cancer Research in 2012. Dr. Ueno received The University of Texas System Regents' Outstanding Teaching Award for his mentoring contributions in 2014 and MD Anderson Distinguished Clinical Faculty Mentor Award In 2019.
Series outline:
What Makes IBC Diagnosis Difficult and How to Make a Correct Diagnosis?
Why Do We Recommend PET-CT for Baseline Imaging?
What is the Best Systemic Treatment for newly diagnosed IBC?
What is the best treatment recommendation for HER2+ IBC with residual disease?
What are the latest surgical approaches for IBC?
How Should Radiation Be Done for IBC Patients?
Disclosure:
The series "Inflammatory Breast Cancer" was commissioned by the Editorial office, Chinese Clinical Oncology without any sponsorship or funding. Professor Naoto T. Ueno served as the unpaid Guest Editor for the series.