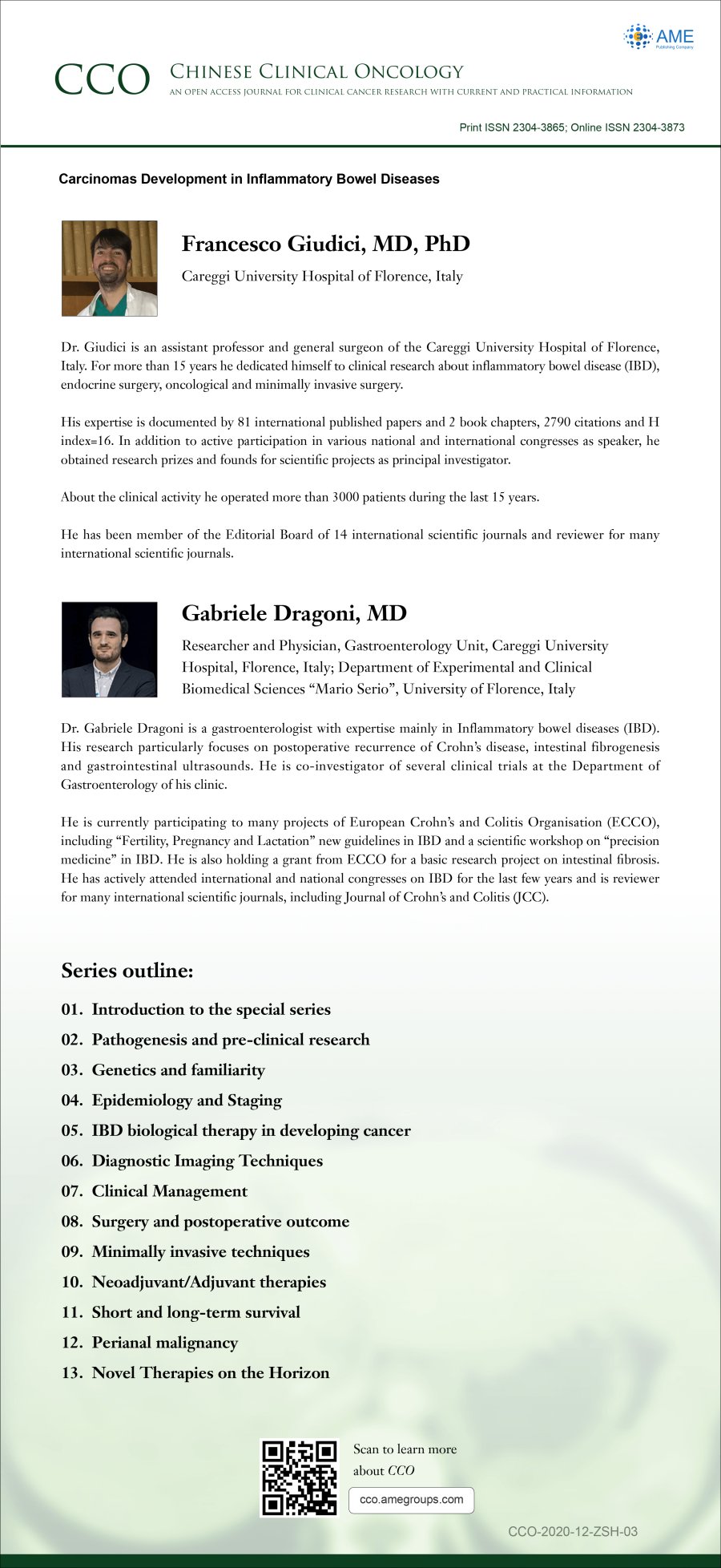 Francesco Giudici, MD, PhD
Careggi University Hospital of Florence, Italy
Dr. Giudici is an assistant professor and general surgeon of the Careggi University Hospital of Florence, Italy. For more than 15 years he dedicated himself to clinical research about inflammatory bowel disease (IBD), endocrine surgery, oncological and minimally invasive surgery.
His expertise is documented by 81 international published papers and 2 book chapters, 2790 citations and H index=16. In addition to active participation in various national and international congresses as speaker, he obtained research prizes and founds for scientific projects as principal investigator.About the clinical activity he operated more than 3000 patients during the last 15 years.
He has been member of the Editorial Board of 14 international scientific journals and reviewer for many international scientific journals.
Gabriele Dragoni, MD
Researcher and Physician, Gastroenterology Unit, Careggi University Hospital, Florence, Italy; Department of Experimental and Clinical Biomedical Sciences "Mario Serio", University of Florence, Italy
Dr. Gabriele Dragoni is a gastroenterologist with expertise mainly in Inflammatory bowel diseases (IBD). His research particularly focuses on postoperative recurrence of Crohn's disease, intestinal fibrogenesis and gastrointestinal ultrasounds. He is co-investigator of several clinical trials at the Department of Gastroenterology of his clinic.
He is currently participating to many projects of European Crohn's and Colitis Organisation (ECCO), including "Fertility, Pregnancy and Lactation" new guidelines in IBD and a scientific workshop on "precision medicine" in IBD. He is also holding a grant from ECCO for a basic research project on intestinal fibrosis. He has actively attended international and national congresses on IBD for the last few years and is reviewer for many international scientific journals, including Journal of Crohn's and Colitis (JCC).
Series outline:
Introduction to the special series
Pathogenesis and pre-clinical research
Genetics and familiarity
Epidemiology and Staging
IBD biological therapy in developing cancer
Diagnostic Imaging Techniques
Clinical Management
Surgery and postoperative outcome
Minimally invasive techniques
Neoadjuvant/Adjuvant therapies
Short and long-term survival
Perianal malignancy
Novel Therapies on the Horizon
Disclosure:
The series "Carcinomas Development in Inflammatory Bowel Diseases" was commissioned by the Editorial office, Chinese Clinical Oncology without any sponsorship or funding. Dr. Giovanni Battista Levi Sandri served as the unpaid Guest Editor for the series.