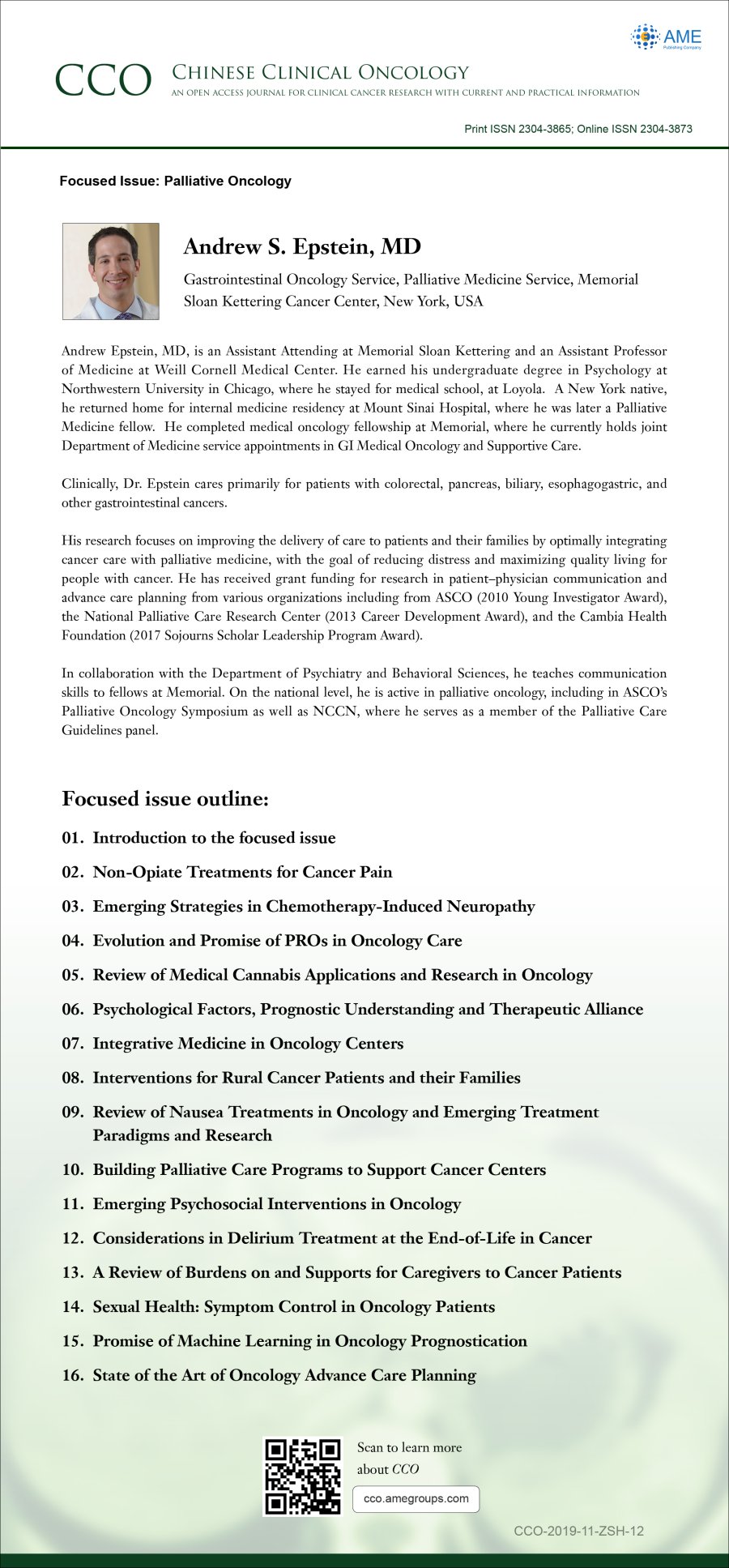 This focused issue on Palliative Oncology is edited by Dr. Andrew S. Epstein.
Andrew S. Epstein, MD
Gastrointestinal Oncology Service, Palliative Medicine Service, Memorial Sloan Kettering Cancer Center, New York, USA
Andrew Epstein, MD, is an Assistant Attending at Memorial Sloan Kettering and an Assistant Professor of Medicine at Weill Cornell Medical Center. He earned his undergraduate degree in Psychology at Northwestern University in Chicago, where he stayed for medical school, at Loyola. A New York native, he returned home for internal medicine residency at Mount Sinai Hospital, where he was later a Palliative Medicine fellow. He completed medical oncology fellowship at Memorial, where he currently holds joint Department of Medicine service appointments in GI Medical Oncology and Supportive Care.
Clinically, Dr. Epstein cares primarily for patients with colorectal, pancreas, biliary, esophagogastric, and other gastrointestinal cancers.
His research focuses on improving the delivery of care to patients and their families by optimally integrating cancer care with palliative medicine, with the goal of reducing distress and maximizing quality living for people with cancer. He has received grant funding for research in patient–physician communication and advance care planning from various organizations including from ASCO (2010 Young Investigator Award), the National Palliative Care Research Center (2013 Career Development Award), and the Cambia Health Foundation (2017 Sojourns Scholar Leadership Program Award).
In collaboration with the Department of Psychiatry and Behavioral Sciences, he teaches communication skills to fellows at Memorial. On the national level, he is active in palliative oncology, including in ASCO's Palliative Oncology Symposium as well as NCCN, where he serves as a member of the Palliative Care Guidelines panel.
Focused issue outline:
Introduction to the focused issue
Non-Opiate Treatments for Cancer Pain
Emerging Strategies in Chemotherapy-Induced Neuropathy
Evolution and Promise of PROs in Oncology Care
Review of Medical Cannabis Applications and Research in Oncology
Psychological Factors, Prognostic Understanding and Therapeutic Alliance
Integrative Medicine in Oncology Centers
Interventions for Rural Cancer Patients and their Families
Review of Nausea Treatments in Oncology and Emerging Treatment Paradigms and Research
Building Palliative Care Programs to Support Cancer Centers
Emerging Psychosocial Interventions in Oncology
Considerations in Delirium Treatment at the End-of-Life in Cancer
A Review of Burdens on and Supports for Caregivers to Cancer Patients
Sexual Health: Symptom Control in Oncology Patients
Promise of Machine Learning in Oncology Prognostication
State of the Art of Oncology Advance Care Planning