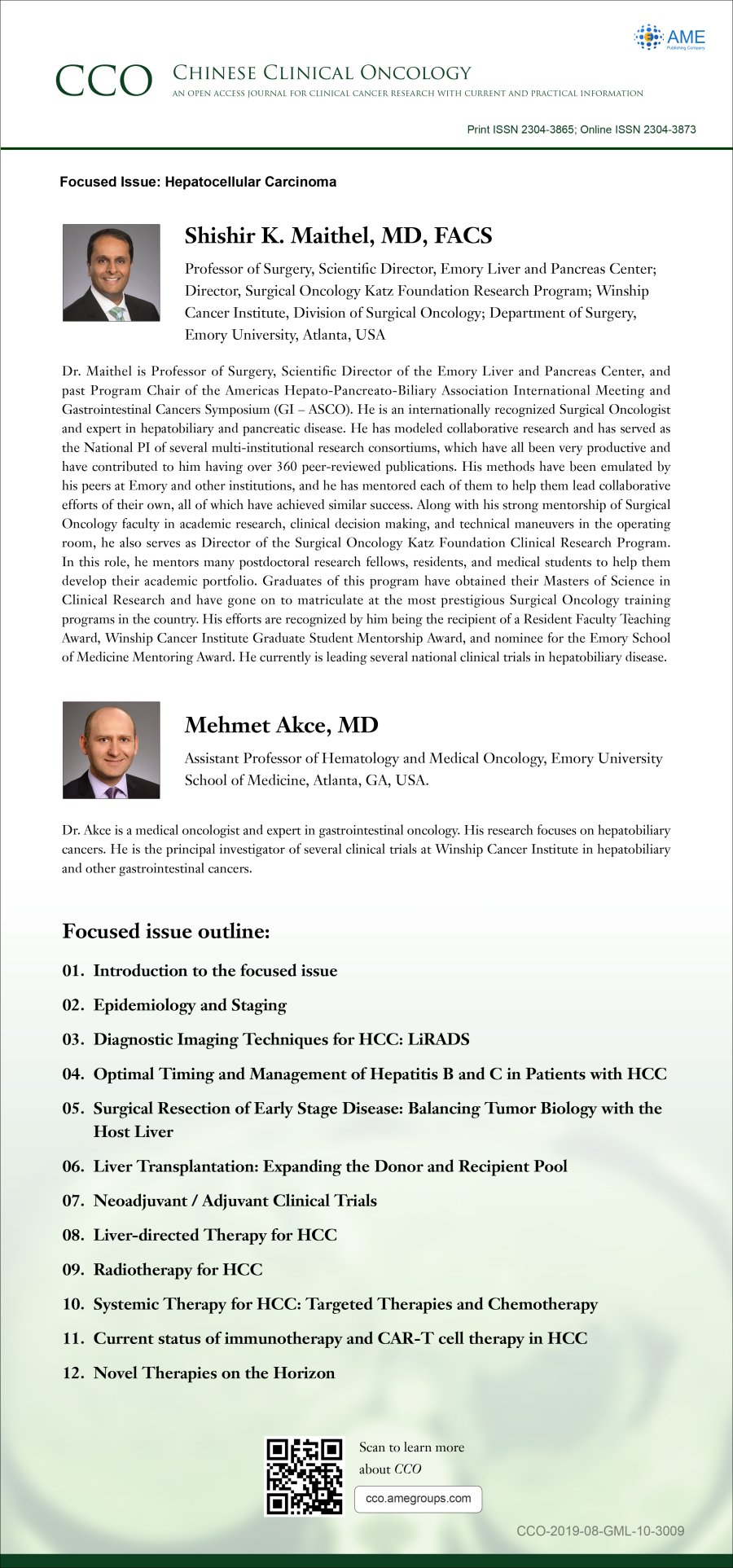 This Focused Issue on Hepatocellular Carcinoma is edited by Drs. Shishir K. Maithel and Mehmet Akce.
Shishir K. Maithel, MD, FACS
Professor of Surgery
Scientific Director, Emory Liver and Pancreas Center
Director, Surgical Oncology Katz Foundation Research Program
Winship Cancer Institute, Division of Surgical Oncology
Department of Surgery, Emory University, Atlanta, USA

Dr. Maithel is Professor of Surgery, Scientific Director of the Emory Liver and Pancreas Center, and past Program Chair of the Americas Hepato-Pancreato-Biliary Association International Meeting and Gastrointestinal Cancers Symposium (GI – ASCO). He is an internationally recognized Surgical Oncologist and expert in hepatobiliary and pancreatic disease. He has modeled collaborative research and has served as the National PI of several multi-institutional research consortiums, which have all been very productive and have contributed to him having over 360 peer-reviewed publications. His methods have been emulated by his peers at Emory and other institutions, and he has mentored each of them to help them lead collaborative efforts of their own, all of which have achieved similar success. Along with his strong mentorship of Surgical Oncology faculty in academic research, clinical decision making, and technical maneuvers in the operating room, he also serves as Director of the Surgical Oncology Katz Foundation Clinical Research Program. In this role, he mentors many postdoctoral research fellows, residents, and medical students to help them develop their academic portfolio. Graduates of this program have obtained their Masters of Science in Clinical Research and have gone on to matriculate at the most prestigious Surgical Oncology training programs in the country. His efforts are recognized by him being the recipient of a Resident Faculty Teaching Award, Winship Cancer Institute Graduate Student Mentorship Award, and nominee for the Emory School of Medicine Mentoring Award. He currently is leading several national clinical trials in hepatobiliary disease.
Mehmet Akce, MD
Assistant Professor of Hematology and Medical Oncology,Winship Cancer Institute, Emory University School of Medicine,Atlanta, GA, USA
Dr. Akce is a medical oncologist and expert in gastrointestinal oncology. His research focuses on hepatobiliary cancers. He is the principal investigator of several clinical trials at Winship Cancer Institute in hepatobiliary and other gastrointestinal cancers.
Focused issue outline:
Introduction to the focused issue
Epidemiology and Staging
Diagnostic Imaging Techniques for HCC: LiRADS
Optimal Timing and Management of Hepatitis B and C in Patients with HCC
Surgical Resection of Early Stage Disease: Balancing Tumor Biology with the Host Liver
Liver Transplantation: Expanding the Donor and Recipient Pool
Neoadjuvant / Adjuvant Clinical Trials
Liver-directed Therapy for HCC
Radiotherapy for HCC
Systemic Therapy for HCC: Targeted Therapies and Chemotherapy
Current status of immunotherapy and CAR-T cell therapy in HCC
Novel Therapies on the Horizon