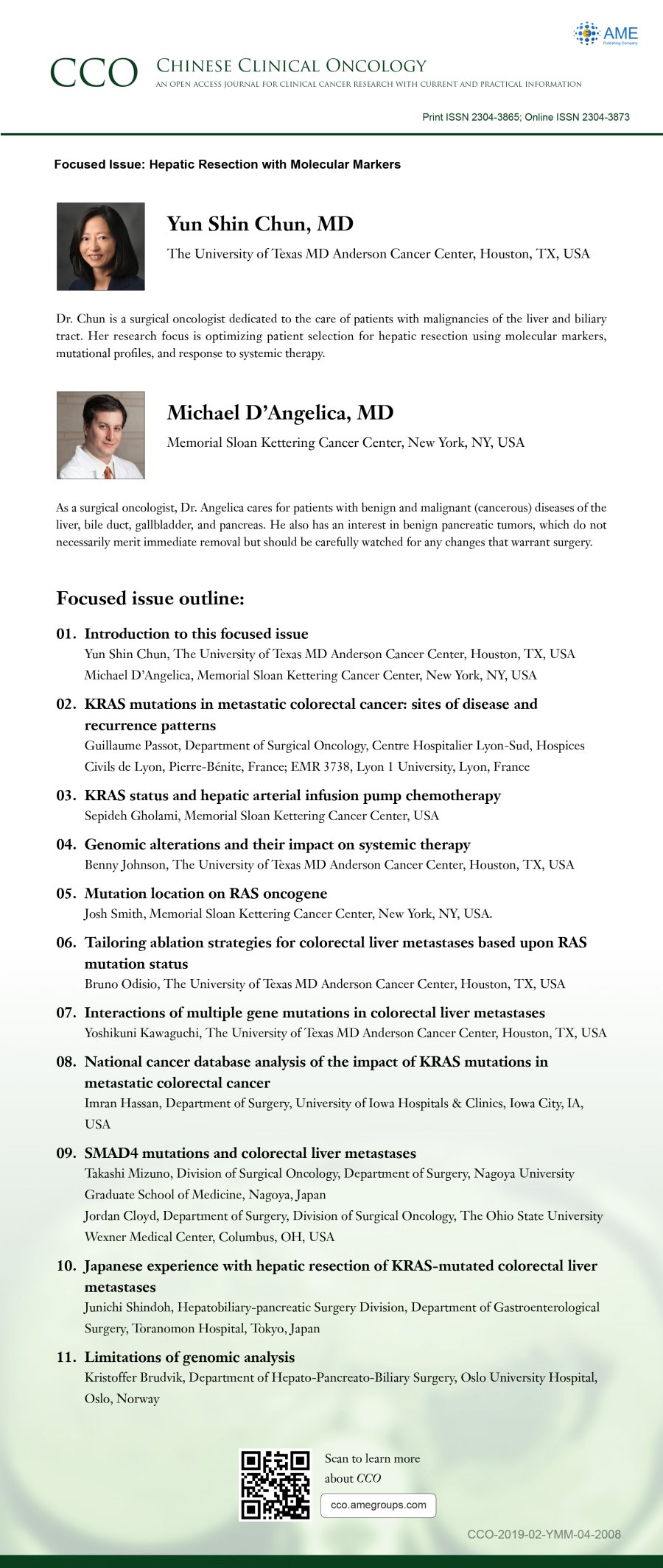 This focused issue on "Hepatic Resection with Molecular Markers" is edited by Dr. Yun Shin Chun, from The University of Texas MD Anderson Cancer Center, Houston, TX, USA; and Dr. Michael D'Angelica, from Memorial Sloan Kettering Cancer Center, New York, NY, USA.
Dr. Yun Shin Chun is a surgical oncologist dedicated to the care of patients with malignancies of the liver and biliary tract. Her research focus is optimizing patient selection for hepatic resection using molecular markers, mutational profiles, and response to systemic therapy.

As a surgical oncologist, Dr. Michael D'Angelica cares for patients with benign and malignant (cancerous) diseases of the liver, bile duct, gallbladder, and pancreas. He also has an interest in benign pancreatic tumors, which do not necessarily merit immediate removal but should be carefully watched for any changes that warrant surgery.

Focused issue outline:
Introduction to this focused issue
Yun Shin Chun, The University of Texas MD Anderson Cancer Center, Houston, TX, USA
Michael D'Angelica, Memorial Sloan Kettering Cancer Center, New York, NY, USA

KRAS mutations in metastatic colorectal cancer: sites of disease and recurrence patterns
Guillaume Passot, Department of Surgical Oncology, Centre Hospitalier Lyon-Sud, Hospices Civils de Lyon, Pierre-Bénite, France; EMR 3738, Lyon 1 University, Lyon, France
KRAS status and hepatic arterial infusion pump chemotherapy
Sepideh Gholami, Memorial Sloan Kettering Cancer Center, USA
Genomic alterations and their impact on systemic therapy
Benny Johnson, The University of Texas MD Anderson Cancer Center, Houston, TX, USA
Mutation location on RAS oncogene
Josh Smith, Memorial Sloan Kettering Cancer Center, New York, NY, USA.
Tailoring ablation strategies for colorectal liver metastases based upon RAS mutation status
Bruno Odisio, The University of Texas MD Anderson Cancer Center, Houston, TX, USA
Interactions of multiple gene mutations in colorectal liver metastases
Yoshikuni Kawaguchi, The University of Texas MD Anderson Cancer Center, Houston, TX, USA
National cancer database analysis of the impact of KRAS mutations in metastatic colorectal cancer
Imran Hassan, Department of Surgery, University of Iowa Hospitals & Clinics, Iowa City, IA, USA
SMAD4 mutations and colorectal liver metastases
Takashi Mizuno, Division of Surgical Oncology, Department of Surgery, Nagoya University Graduate School of Medicine, Nagoya, Japan
Jordan Cloyd, Department of Surgery, Division of Surgical Oncology, The Ohio State University Wexner Medical Center, Columbus, OH, USA

Japanese experience with hepatic resection of KRAS-mutated colorectal liver metastases
Junichi Shindoh, Hepatobiliary-pancreatic Surgery Division, Department of Gastroenterological Surgery, Toranomon Hospital, Tokyo, Japan
Limitations of genomic analysis
Kristoffer Brudvik, Department of Hepato-Pancreato-Biliary Surgery, Oslo University Hospital, Oslo, Norway