Review Article
Rational combination of immunotherapy for triple negative breast cancer treatment
Introduction
Triple-negative breast cancers (TNBC) is a subtype of breast cancer that lacks estrogen receptor (ER), progesterone receptor (PR), and human epidermal growth factor receptor 2 (HER2) expression. Because TNBC lacks well-defined molecular targets, it is still the most challenging type of breast cancer for which no effective treatments exist (1,2). TNBC is further classified into several subtypes based on its gene expression profiles, suggesting TNBC is highly heterogeneous (2). Approximately half of TNBC is initially sensitive to conventional chemotherapy, but the disease eventually recurs 3–5 years after the initial treatment and develops resistance. Similar to chemotherapy, TNBC has been considered immunologically silent as results from clinical trials indicated that breast cancer, among all cancer types, demonstrates the worse response to inhibitor against immune checkpoint protein cytotoxic T lymphocyte associated antigen 4 (CTLA4) (3,4). Although a significant number of tumor infiltrating lymphocytes (TILs) exist in TNBC, they are frequently inhibited by secreted lactate (5) or expression of co-inhibitory ligands, such as programmed death ligand 1 (PD-L1) and B7H family, by cancer cells (6-8). Cancer cells hijack T cell activation by overexpressing co-inhibitory ligands to engage co-inhibitory receptors on the T cells (9). Thus, inhibition of cancer cell signaling together with immune checkpoint blockade can induce effective anti-tumor immunity to eliminate cancer (10,11).
Post-translational modifications control critical biological activity of proteins, e.g., glycosylation, and occur on approximately two third of all proteins (12). N-linked glycosylation represents a type of oligosaccharide attached to the asparagine residue (Asn, N) in the NXT/S motif (13). Compared with non-TNBC cells, PD-L1 in TNBC cells is more substantially glycosylated (14). Indeed, TNBC demonstrated stronger T cell inhibition than non-TNBC. Glycosylation has been shown to prevent PD-L1 from undergoing 26S proteasome-mediated degradation and enhanced association with programmed death protein 1 (PD-1), all of which lead to the suppression of the T cell immune response (14). A recent study also suggested that chronic inflammation induces PD-L1 stabilization through CSN5-mediated de-ubiquitination in TNBC (15). Macrophage-secreted TNFα also induces TNBC immunosuppression via NF-κB signaling. These findings suggested that targeting PD-L1 glycosylation, phosphorylation, or ubiquitination is a novel strategy to enhance anti-tumor immunity against TNBC. In this review, we summarize the current understanding of PD-L1 regulation in TNBC, e.g., the EGF/GSK3β/PD-L1 (14) or TNFα/p65/CSN5/PD-L1 (15) signaling axis, with the goal of assisting clinicians design effective combinatorial strategies to combat TNBC. In principle, drugs that downregulate PD-L1 expression are suitable for combining with other types of monoclonal antibody (mAb) immunotherapy, such as anti-CTLA-4, anti-TIM-3, or anti-PD-L1/PD1. Likewise, drugs that induce PD-L1 expression may be appropriate for combination with anti-PD1 or anti-PD-L1. In this regard, the proposed combinations may lead to maximal therapeutic efficacy with minimal toxicity.
---
Reducing PD-L1 expression by anti-EGFR agents
The epidermal growth factor receptor (EGFR) belongs to the HER2 family of receptor tyrosine kinases (RTKs). Overexpression or mutations of EGFR, which associate with aggressive tumor behavior, including cell proliferation, metastasis, and therapeutic resistance, are found in lung, colon, head and neck, brain, pancreatic, and breast cancers (16-19). Thus, EGFR inhibitors, such as TKI and mAbs, have been developed as anti-cancer therapy.
Compared with other subtypes of breast cancer, EGFR is more frequently overexpressed in TNBC (20). Depending on the method of evaluation, TNBC generally harbors higher EGFR expression, ranging from 13% to 76% increase over non-TNBC (21-28). TNBC patients with high EGFR activity also have poorer survival rates compared with those with no or low levels (29). However, clinical results evaluating drugs targeting EGFR for TNBC treatment have been disappointing. For instance, clinical trials that investigated the toxicity and efficacy of anti-EGFR agents in TNBC indicated no significant benefits from monotherapy or in combination with chemotherapy (30-36). It is likely that the survival of TNBC is not EGFR dependent (37) or that the heterogeneity of TNBC may switch to other survival pathway(s) to compensate for the loss of EGFR activity.
Two single-arm studies recently reported only modest activities of EGFR mAbs in TNBC (38,39); interestingly, however, the expression of CD8+ TILs inside the tumor was shown to predict the response. Moreover, the higher the expression of TILs, the better the prognosis was for TNBC patients (8). It is therefore reasonable to combine anti-EGFR agents with immune checkpoint inhibitors. In agreement with these findings, gefitinib, erlotinib, lapatinib, and AG1478 all attenuated EGF-induced PD-L1 expression and thereby abolished PD-L1 and PD-1 interaction in TNBC cells (14). Inhibition of EGFR by gefitinib enhanced IL-2 expression in T cells and elevated the cytolytic activity of T cells. Consistent with the in vitro observations, gefitinib enhanced PD-1 antibody efficacy with no significant changes in mice body weight and minimal cytotoxicity in the liver and kidney (14). These results suggested that targeting EGFR may be effective strategy to combat TNBC-mediated immunosuppression and boost the efficacy of immune checkpoint blockade.
---
Reducing PD-L1 expression by PI3K/AKT signaling
Activation of phosphatidylinositol 3-kinase (PI3K) induces AKT and many other downstream signals activation. Aberrant mutations in the p85 and p110 subunits of the PI3K can alter signaling to induce cancer cell progression. PI3K is highly mutated in breast cancer, particularly in TNBC, suggesting that PI3K is an excellent target for TNBC treatment. Tumor suppressor PTEN-deficient cells with high AKT activation have been shown to upregulate PD-L1 protein level post-transcriptionally (40), suggesting that agents targeting the PI3K pathway may increase the efficacy in immune checkpoint blockade when combined with PD-L1 antibody.
To identify potential regulatory mechanisms for PD-1/PD-L1 glycosylation, we noted that an evolutionary conserved GSK3β phosphorylation region exists in PD-L1. In depth analysis suggested that inhibition of EGFR relieves AKT-mediated GSK3β inhibition and thereby activates GSK3β for PD-L1 degradation (14). Since AKT suppresses GSK3β activity through Ser 9 phosphorylation, the expression of PD-L1 is positively correlated with p-GSK3β (14). In this regard, inhibition of AKT activity by MK2206 may induce GSK3β-mediated PD-L1 degradation, resulting in PD-L1 downregulation. Moreover, GSK3β activity is also inhibited by the Ras-Raf-Mek-Erk-Rsk or mammalian target of rapamycin (mTOR)-S6K pathway through Ser 9 phosphorylation (41), suggesting that different agents, such as those against the Ras-Raf-Mek-Erk-Rsk pathway (sorafenib and AZD6244) or the mTOR-S6K pathway (rapamycin, RAD001 and WYE354) may be used in combination with anti-PD-L1 antibody based on how is GSK3β inactivated (Figure 1).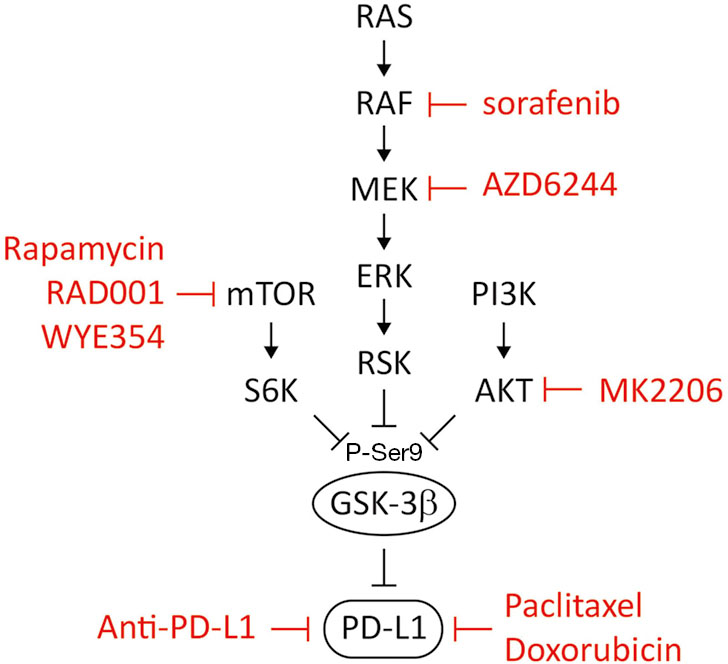 Figure 1 Proposed strategy for targeting the GSK3β/PD-L1 axis. Several applicable approaches to improve immune checkpoint blockade to downregulate PD-L1 expression. Activation of GSK3β by inhibiting (I) mTOR (rapamycin, RAD001 or WYE354); (II) RSK (sorafenib or AZD6244); or (III) AKT (MK2206).
Unlike AKT2, which is primarily involved in metastatic dissemination, AKT1 is known to inhibit breast cancer cell migration, invasion, and EMT in both transgenic mouse models and cell-based studies (42-45). In light of several observations, which indicated the negative role of AKT1 during metastatic spread, isoform-dependent regulation should be considered for its application in immune therapy. In particular, AKT1, but not AKT2, preferentially interacts with and phosphorylates Twist1 at three sites, subsequently altering its stability (46). Ablation of three AKT1 phosphorylation sites on Twist1 induces a stronger EMT phenotype, which resembles AKT1-mediated EMT repression. Consistent with the results from mechanistic studies, blockage of AKT1 using a clinically approved anti-AKT inhibitor, MK-2206, induces Twist1 stabilization and cell aggressiveness. Destabilization of Twist1 by resveratrol counteracts anti-AKT-mediated adverse effects (46). Given the majority of anti-AKT inhibitors lack target specificity, anti-AKT therapy may potentially lead to EMT or other off-target effects in breast cancer treatment. Therefore, the risk of off-target effects of anti-AKT should be taken into account when combining anti-AKT with immunotherapy.
---
Anti-GSK3β therapy
A number of extracellular stimuli, including insulin, EGF, fibroblast growth factor (47-50), and hepatitis B virus (51), abrogate GSK3β activity through phosphorylation of the Ser 9 residue. Overexpression and/or activation of GSK3β often lead to tumor suppression (52,53), whereas catalytic inactivation of GSK3β protects the cells against environmental stress-induced apoptosis (54-56). To date, PI3K/AKT, mitogen-activated protein kinase (MAPK)/p90RSK, and mTOR/S6K have been shown to cross talk with GSK3β through Ser 9 phosphorylation (57). Modulation of GSK3β-dependent activation via Ser 9 phosphorylation may offer new insights into the therapeutic strategies for breast cancer therapy (57).
TNBC cells carrying PD-L1 with GSK3β phosphodeficient mutant (PD-L1 3SA) were more resistant to human T cell-mediated cytolysis than did cells expressing PD-L1 WT. Similarly, 4T1 tumors with mouse PD-L1 3SA were more malignant than those expressing mouse PD-L1 WT. In addition, the population of activated cytotoxic T cells [CD8 and interferon gamma (IFNγ) positive] in 4T1 3SA tumors was lower than that in 4T1 WT tumors. These results supported the notion that inactivation of GSK3β enhances tumor-immunosuppressive function and provides a tumor cell survival advantage.
Chemotherapeutic drugs, on the other hand, also can be combined with immunotherapy as some, including paclitaxel and doxorubicin, are known to activate GSK3β. It is likely that these drugs may reduce PD-L1 and thereby sensitize cancer cells to anti-CTLA-4 therapy. Because patients undergoing chemotherapy have weakened immune response against foreign antigens, the addition of immunotherapy may not be effective. In this regard, the toxicity of chemotherapy agents to T cells requires careful evaluation.
---
Targeting TNFα /p65/CSN5/PD-L1 signaling regulation
It is widely accepted that chronic inflammation is associated with disease aggressiveness in cancer. Pro-inflammatory cytokines and growth factors produced in the tumor microenvironment can attenuate anti-tumor immunity and enhance tumor cell survival. The key upstream mediators linking inflammation to cancer include interleukin-6, tumor necrosis factor α (TNFα), nuclear factor-κB (NF-κB), inducible nitric oxide synthase, cyclo-oxygenase-2, and hypoxia-inducible factor 1 α (58). The pro-inflammatory cytokine TNFα, which is mainly secreted by macrophages, promotes tumor growth by inducing cell survival (59), proliferation (60), angiogenesis (61), and epithelial-to-mesenchymal transition (62) via NF-κB activation. TNFα also activates mTOR (61), Hedgehog (59), AKT (63), and ERK (64), providing diverse advantages for cell growth.
In inflammatory tumor microenvironment, we identified TNFα as a major factor triggering cancer cell immunosuppression against T cell surveillance via stabilization of PD-L1 (15). NF-κB/p65 activation-induced COP9 signalosome 5 (CSN5) is required for TNFα-mediated PD-L1 stabilization in cancer cells. CSN5 inhibits the ubiquitination and degradation of PD-L1 (15). TNFα induces PD-L1 stabilization through p65/CSN5 activation, namely TNFα/p65/CSN5/PD-L1, and PD-L1 stabilization on TNBC cancer cells leads to immune evasion (15). Unlike CTLA-4 or PD-1, which are primarily expressed on immune cells (65,66), PD-L1 is expressed on cancer cells, macrophages, and dendritic cells (DCs), and plays an important role in inhibiting immune surveillance (7). Aside from IFNγ-mediated PD-L1 mRNA transcription through STAT3, stabilization of PD-L1 by TNFα suppresses T cell activity (15). Since the regulatory mechanism is not limited to cancer cells as PD-L1 is also stabilized in DCs and T cells, those findings revealed an underlying molecular mechanism of PD-L1 via post-translational modification.
In study of inflammation-mediated immune response in cancer, the TNFα/p65/CSN5/PD-L1 signaling axis stabilizes cancer cell PD-L1 expression for immunosuppression. This regulatory event is critical for TNBC cells to escape immune surveillance via PD-L1/PD-1 interaction. Importantly, inhibition of TNFα-mediated PD-L1 stabilization in cancer cells promotes the tumor-infiltrating cytotoxic T cell immune response. Curcumin, which has been shown to inhibit CSN5-associated kinase activity (67), inhibits not only CSN5 activity in a dose-dependent manner in vitro but also TNFα-induced PD-L1 stabilization in TNBC cells (15). Preclinical data demonstrated that inhibition of CSN5 sensitizes TNBC cells to anti-CTLA4 therapy (15). Thus, targeting cancer cell PD-L1 stabilization through NF-κB/CSN5 inhibition represents a new potential strategy to treat cancers that are associated with inflammatory diseases (Figure 2).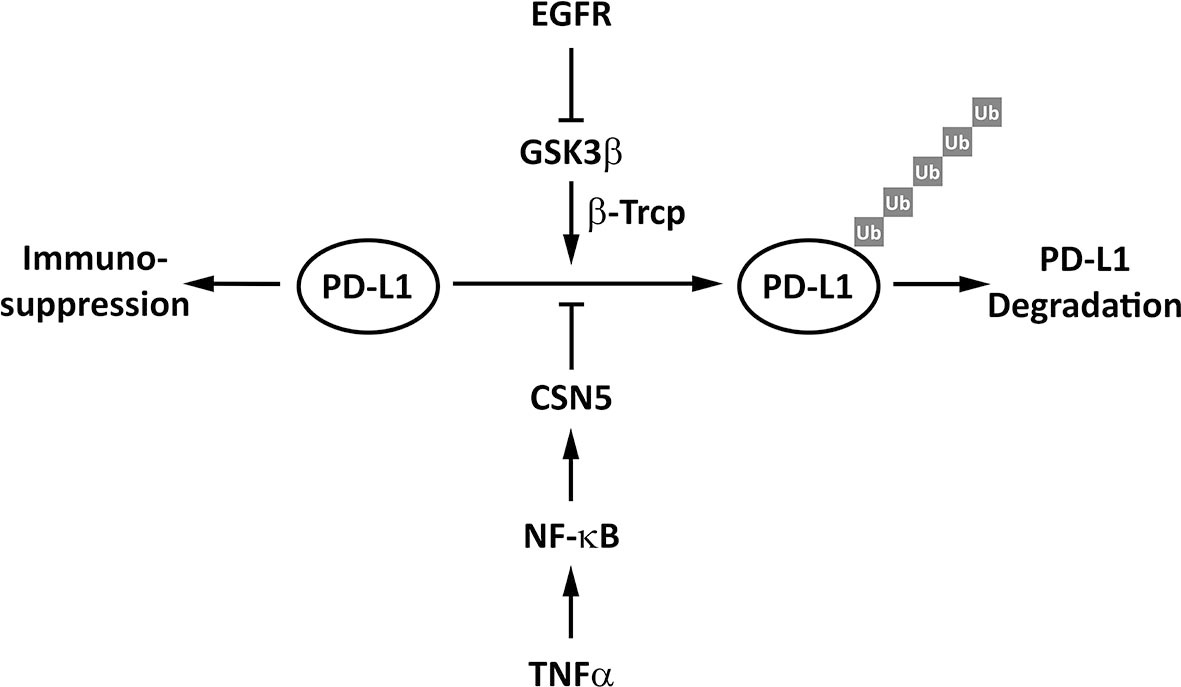 Figure 2 Proposed model of PD-L1 regulation. Regulation of PD-L1 ubiquitination by EGFR and TNFα mediated immunosuppression. EGFR inhibits PD-L1 stabilization by blocking GSK3β-mediated PD-L1 ubiquitination (top) whereas TNFα induces deubiquitinating enzyme to stabilize PD-L1 for immunosuppression (bottom).
---
Conclusions
Bypassing immune surveillance is one of the major features of TNBC malignancy. Despite high TIL density in the tumor microenvironment, TNBC remains one of the few diseases with poor response to immunotherapy. Since the combination of immunotherapy with chemotherapy, targeted therapy or radiation is being evaluated in clinical trials, the rationale of the combination remains preliminary. Based on the mechanisms underlying post-translational regulation of PD-L1, many combinatory strategies can be rationally designed. In addition, because as high as half of TNBC patients eventually undergo disease relapse, enhancing the patients' anti-tumor immunity by reducing PD-L1 expression may bring promising results to TNBC therapy.
---
Acknowledgements
We thank Dr. Jung-Mao Hsu for assisting with model illustration.
Funding: This work was funded in part by the following: National Institutes of Health (CCSG CA016672); Cancer Prevention & Research Institute of Texas (RP160710); National Breast Cancer Foundation, Inc.; Breast Cancer Research Foundation; Patel Memorial Breast Cancer Endowment Fund; the University of Texas MD Anderson-China Medical University and Hospital Sister Institution Fund; Ministry of Science and Technology, International Research-intensive Centers of Excellence in Taiwan (I-RiCE; MOST 105-2911-I-002-302); Ministry of Health and Welfare, China Medical University Hospital Cancer Research Center of Excellence (MOHW106-TDU-B-212-144003); Center for Biological Pathways; Susan G. Komen for the Cure Postdoctoral Fellowship (PDF12231298; to SO Lim); and Basic Science Research Program through the National Research Foundation of Korea funded by the Korean government (MSIP; NRF-2011-357-C00140; to SO Lim).
---
Footnote
Conflicts of Interest: The authors have no conflicts of interest to declare.
---
References
Cite this article as: Li CW, Lim SO, Hsu JL, Hung MC. Rational combination of immunotherapy for triple negative breast cancer treatment. Chin Clin Oncol 2017;6(5):54. doi: 10.21037/cco.2017.08.04